About
"If you're enthusiastic about the things you're working on, people will come ask you to do interesting things"

James Woolsey, former CIA director
Me, Inc.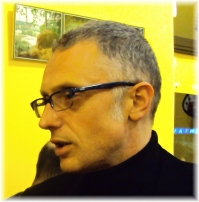 I am a People & Organization Development Advisor with over 20 years of experience both in business consultancy and management of medium and big size companies, where the foundations of my professional skills were laid. In 2009 I voluntarily turned my back on manager's salary and benefits and I started living by my wits and wisdom.
As organization development advisor and facilitator, I worked for many companies and institutions, both in Italy and abroad, helping them to improve self-motivation, leadership, teamwork and clarity through cutting-edge learning programs, advisory services and professional coaching.
Moreover, I create custom solutions for organisations and individuals to assist in effective Personal Branding. I believe that Personal Branding is a vital step for both companies wanting to innovate their business and professionals wishing to differentiate themselves and achieve success in the workplace.
In my role as Personal Branding Coach, I have seen the value of Linkedin several years ago, experiencing personally its tremendous power. My Linkedin Networking ProAcitve workshops are designed for companies and professionals wishing to get more from this networking site – whether they be business owners, sales professionals, jobseekers, business developers, associations or managers wishing to expand their network.
How I differentiate myself
The volatility, uncertainty, complexity, and ambiguity (VUCA) inherent in today's business world is the "new normal", and it is profoundly changing not only how organizations do business, but how business leaders lead. The skills and abilities leaders once needed to help their organizations thrive are no longer sufficient.
I am specialized to help organizations succeed in today's VUCA environment by developing people who can counter volatility, uncertainty, complexity, and ambiguity with vision, understanding, clarity, and agility.
I provide extremely hi-touch service, protecting my unique culture and leveraging up-to-date ideas of world-class subject matter experts. By partnering with my clients, I anticipate their needs, provide innovative solutions, and build relationships based on trust, confidence and mutual respect. My motto is "Working together on big ideas".
One of the many reasons why I deliver successful results is the meticulous approach I take to ensure I completely understand the needs of my clients. I do not progress the relationship further until I know exactly what they wish to accomplish through my consulting services.
Over the years, I've observed just about every type of "training program". And the sad thing is, most of them don't even come close to accomplishing what they were designed to do – build real competences. This is why course binders end up on a shelf gathering dust, while the day to day challenges of the business take over. Consequently all the good intentions and "best practices" they learned on the course are forgotten.
That's why I don't give "best practices". I give unique insights that open the door for my clients to come up with their own solutions to their company's specific challenges. I coach them, mentor them, disciple them, and facilitate them to think for themselves, an attribute that's in very short supply these days.
Call me when
You want to introduce shared values into your organization
You want to develop entrepeneurship and self-motivation
You want to inspire your people to achieve great results
You want to introduce more effective ways of teamworking
You want to strengthen your leadership and employee engagement capabilities
You want to clarify and reach your goals
You want to build your unique personal brand
You want to exploit your personal brand.